The Water Show
WELCOME to the Indy Arts Studio Series, where you will find behind-the-scenes information such as raw footage from conversations with featured artists, artwork development, artist bios, the show at-a-glance, and other details of the artists' time leading up to the opening of their exhibition in Gallery 924 at the Arts Council.
Meet our June/July artists:
Summer Group Show:
The Water Show: A juried group show of 23 central Indiana artists
Gallery 924
June 5 – July 10, 2015
Gallery 924 presents an exploration of water. A once abundant element that may soon become more of a luxury item in our lives as it has become in other parts of the world. According to the United Nations, by 2025 1.8 billion people will be living in countries or regions with absolute water scarcity, and two-thirds of the world's population could be under stress conditions. In our own country fear of water scarcity is growing, but have we changed the way we view water? As a culture how do we think of water? How do artists use water in their work? And will those perceptions change in the next two decades?
Inspiration for the Show:
The original photograph was taken at Infecting the City (ITC), a vibrant and innovative annual arts festival that takes place in the city of Cape Town, South Africa. This print won Best in Show at the Arts Council of Indianapolis Art & Soul 2015 event as well as at a 2014 competition at the National Afro-American Museum & Cultural Center in Ohio. The image was used in representation of the African Diaspora during Art & Soul symbolizing the migration of the African culture throughout the world. It has also been interpreted as depicting a victim of Hurricane Katrina and Virgil's passage through Inferno, to name a few. 
     Original images from Infecting the City:
     About William Rasdell:
As a photographer and digital artist, at the core of my work are issues related to migration as a transforming agent in cultural evolution. It investigates the ways that ethnic convergence can greatly enrich cultures with foods, religions, languages, and the arts just as it can erode the foundation of a society through overpopulation, unemployment, homelessness, xenophobia and war. For much of my career I have focused on enriching the African presence throughout the Diaspora. My work is an attempt to understand how these cultural relationships have evolved into contemporary societies. In that process I have created pictorials that bear witness to the legacies of influences and retention in daily life and custom in Israel, South Africa, Cuba, Puerto Rico, Jamaica, Mexico, Barbados, Grenada, Trinidad/Tobago, and across the United States. – from the Artist's Statement 
Learn more about William and his work >>
 
---
The Exploration of Water
Water is used historically and universally as a symbol of purity and rejuvenation, cleansing and creation, and oftentimes has a feminine undertone.  It is used to communicate the concept of the cycle of life and death throughout myths, poems, and literature. It is able to represent literal and metaphorical journeys, the fluidity of nature and existence, the chaos and danger of something uncontrolled and unpredictable, the power of transition and metamorphosis as it changes from liquid, to solid, to vapor. It is the essence of life. 
VOYAGE & TRANSPORTATION:
"For whatever we lose (like a you or a me)
It is always ourselves that we find in the sea."
– e.e. cummings
     Fun Fact:
     4500 BC → Sailing ships are created in Mesopotamia. Water transportation was very important as it sat between the Euphrates and Tigris Rivers.
THE CYCLE OF LIFE:
"We forget that the water cycle and the life cycle are one."
– Jacques Cousteau
THE MOVEMENT: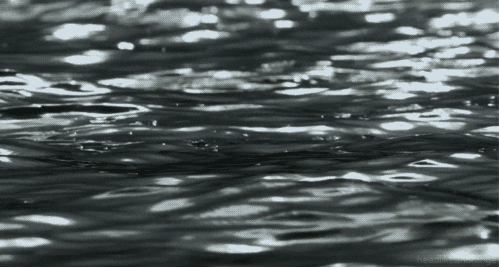 THE EXPLORATION:
"Nothing is softer or more flexible than water, yet nothing can resist it."
-Lao Tzu
THE SPIRITUALITY:
The worldwide practice of Hinduism encompasses a wide variety of beliefs. However, a prevailing belief that is shared by most, if not all, Hindus is the importance of physical and spiritual cleanliness and well-being… a striving to attain purity and avoid pollution. This widespread aspiration lends itself to a reverence for water as well as the integration of water into most Hindu rituals, as it is believed that water has spiritually cleansing powers. – from Water and Hinduism Blogspot
---
 Usage and Data:
     By 2025:
---
From the Director's Note:
The goal with this show was simply to explore the idea of how artists represent water in their work. How has this changed over the centuries and how will it continue to change as the concept of water​ changes. Water​ being a means of transporting people and goods is no longer a mystery or a​s​ dangerous and challen​​g​ing as it once was. ​Might the concept of water as an abundant and beautiful gift to be used at our pleasure ​also become a thing of the past​? This exhibition includes photographs of sacred places, installations of imagined ​meandering ​rivers, and an actively "melting" climate. We hope you'll come see this wonderful and diverse display of artwork for yourself and perhaps re-think how we as a culture value water.
---
Featured Artists in this Series:
     William A. Rasdell → Learn more about William online at Rasdell.com
                                                   Follow him on Facebook/william.rasdell
                                                   Featured artwork: Migration: Wading the Water, digital print on aluminum composite material, 2013
     Susan Tennant → Learn more about Susan online at susantennant.com
                                            Featured artwork: Vessel, wood and waxed cord, 2012; and Tethered to the Past, fiberglass rods, waxed cord, wood, 2015
     Luke Crawley and Quincy Owens → Learn more about Quincy Owens online at QuincyOwensArt.com
                                                                                 Like Quincy Owens on Facebook/quincyowensart
                                                                                 Follow Quincy Owens on Twitter @QuincyOwensArt
                                                                                 Featured artwork: Lap, wood, fabric, fans, sound, 2015
---